SWING ALUMINIUM SYSTEM "NAIDY"
DESCRIPTION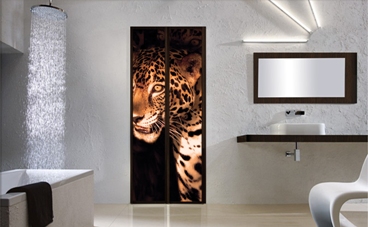 Swing aluminium system NAIDY is a new solution for premium class rolling door wardrobes. First of all, we should mention that NAIDY swing aluminium system construction components allow to increase the load on the profile and use wider and heavier facades. This makes the rolling door wardrobes look prestigious and modern, they can be compared to the best European examples and become irreplicable in the interiors of any styles.
When we were creating the swing aluminium system NAIDY as a premium class product, we were paying special attention to the creation of luxuriance feeling, special comfort while using the system. That's why the system has such characteristics as smooth run, "invisible" rolling mechanisms, convenient handles, the most desired colour palette, opportunity to fill the facades inside.
Swing aluminium system NAIDY means premium quality for our customers and wide range of additional services for our partners who want their business to grow: help with components, consulting, training.